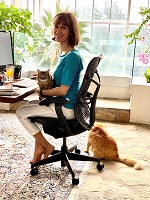 Getting to Know Kathy Fazel, Vice President & Investment Counsellor at RBC PH&N Investment Counsel
"IWF has given me strong women role models, mentors and friends, for which I am truly grateful."
When I arrived in Montreal at the age of nine, on a cold January afternoon, I didn't speak a word of French, and all I could say in English was "how do you do?" A couple of days later, my parents dropped me off at school one morning in my newly-acquired uniform. They returned that afternoon with a pair of boots and a winter coat, and that's how I started my new life in Canada!
As I was growing and learning about the diverse cultures around me, I was receiving news about my native country of Iran. The Islamic revolution which had caused my family to leave had installed a repressive regime, which rolled back the rights of women and girls. I became very aware of my privileges, rights and freedoms as a young girl in Canada, in contrast to my Iranian counterparts. Ever since then, this early experience became the driving force for my desire to help other girls and women.
My academic path led me to McGill University, where I obtained a joint honours degree in Economics and Finance. I continued my professional education by achieving the Chartered Financial Analyst designation. And I have spent over 25 years helping my clients to invest and grow their portfolios, and reach their goals for themselves and for their families. It is a very rewarding career which uses both my deep analytical and technical expertise, as well as my desire to build long-term, empathetic relationships with my clients.
In parallel to my career in finance, I have had an equally long experience in volunteering. Most recently, I was named Governor Emerita of McGill University, where I currently serve on the Sustainability Committee. I am also President of the Board of the Foundation of Greater Montreal (FGM), a charitable organization that promotes and supports philanthropy in the community by creating funds for selected causes.
I am very proud to have helped launch a new FGM initiative called the Women's Impact Montréal (WIM) Collective Fund, headed by IWF's own Deborah Shannon-Trudeau and we have a number of IWF members who have already joined us. The WIM Fund is essentially a giving circle, uniting people with a common purpose who want to make a difference for women and girls in Greater Montreal. FGM will provide panel discussions and other opportunities for members to learn about the challenges faced by women in our community, and how we can help.  My hope is that more people will join this network, which mobilizes the collective power of philanthropy and enables us to have a positive local impact. I would like to mention that you can join the Fund through an annual gift of $1,500 ($1,000 for those under 40), and a pledge of support for three years. Please consider joining the WIM Fund, along with dozens of other like-minded community leaders. I'm sure you'll find that it is a gratifying and powerful way to give back.
I absolutely love IWF, which has consistently and for many years provided me with deeply rewarding experiences.  I attend the global conferences and local events every chance I have, and each time I am energized and inspired by my IWF sisters from around the world. IWF has given me strong women role models, mentors and friends, for which I am truly grateful.  I can't wait to attend an in-person event and safely hug everyone again!
---
Kathy Fazel, CFA, ICD.A
Vice-Présidente et  gestionnaire de portefeuilles chez RBC PH&N

Quand je suis arrivée à Montréal à l'âge de neuf ans, par un après-midi de janvier très froid, je ne parlais pas un seul mot de français et mon anglais se résumait à 'how do you do ?' Deux jours plus tard, mes parents me déposaient à l'école dans mon nouvel uniforme. Ils sont revenus l'après-midi, m'apportant une paire de bottes et un manteau d'hiver. C'était le début de ma vie au Canada.
À mesure que je grandissais et que je m'intégrais à ma nouvelle société, je recevais des nouvelles de l'Iran, mon pays d'origine. La révolution islamique qui avait provoqué le départ de mes parents avait installé un régime répressif qui réduisait les droits des femmes et des filles. Ainsi, je suis devenue très consciente des privilèges, droits et libertés dont je profitais comme jeune fille au Canada, contrairement aux jeunes Iraniennes. Cette expérience est à l'origine de mon désir d'aider toutes les filles et les femmes. 
Mes études m'ont menée à l'université McGill où j'ai obtenu un baccalauréat spécialisé en Économie et finances,  suivi d'un diplôme de Chartered Financial Analyst. J'ai passé plus de 25 ans à aider mes clients à faire croître leurs portefeuilles et à atteindre leurs objectifs.  
Le bénévolat continue de me passionner. Récemment, j'ai été nommée Gouverneure émérite de l'Université McGill où je siège présentement au comité de développement durable. 
Je préside également le Conseil de la Fondation du Grand Montréal (FGM) qui encourage la philanthropie dans la communauté en créant des fonds pour des causes spécifiques. Je suis particulièrement fière d'avoir contribué au lancement du Fonds collectif Femmes Action Montréal (FAM) présidé par Deborah Shannon-Trudeau, qui sera entièrement consacré à l'amélioration de la vie des femmes et des filles de la grande région de Montréal. J'ai l'espoir de voir de nombreuses personnes rejoindre ce réseau qui aura un impact local positif. Il est possible de participer au fonds avec un don annuel de 1 500$ (1 000$ pour les moins de 40 ans) avec un engagement de trois ans. Merci de vous joindre à d'autres leaders de la communauté en devenant membre : une participation qui promet de vous apporter beaucoup de satisfaction. (LIEN)
J'aime infiniment l'IWF, qui m'apporte des expériences enrichissantes depuis des années. J'assiste aux conférences mondiales comme aux événements locaux et chaque fois, je suis inspirée par mes sœurs IWF qui m'ont servi de modèles, de mentors et d'amies. Vivement les rencontres en personne où on pourra enfin se faire la bise !