LUMINARY AWARD
The IWF Canada Luminary Award recognizes IWF Canada members who best exemplify or have exemplified the spirit and soul of IWF Canada through their active contributions to IWF, IWF Canada and their local Chapters. Award-winning members will have illuminated IWF Canada's vision, mission and values through their overall contributions towards advancing the role of women locally, nationally and globally.
APPROACH
The approach to the Canadian Award follows the IWF International Hall of Fame "constellation of honorees" approach, with 2 to 3 honorees selected each year and honoured at an annual National-level ceremony.  IWF Canada will endeavor to seek diversity in its annual award nominees in terms of the range of industry, community contributions, as well as geographic representation.
CRITERIA
An IWF Canada member in good standing (unless deceased) who

has

made a significant impact in advancing the role of women locally, nationally and globally both inside her field of

endeavor

and beyond.

A candidate should have made a lasting contribution to the IWF community.  The long-term benefit should be given priority avoiding undue weight to what may be current or of immediate media attention.

A candidate should be held in high esteem by her peers in her field of

endeavor

and be recognized as an influential community leader locally, nationally and internationally.

A candidate should have contributed to enhancing the broad interests of society and the international community and demonstrate how they further or have furthered IWF Canada's mission while actively demonstrating IWF Canada's values.
SELECTION AND NOMINATIONS PROCESS
The National President will select a committee of up to five IWF Canada members in good standing and with consideration towards geographical representation and diversity of backgrounds.
A call for awards nominations will be communicated to the membership with a 60-day timeframe to submit nominations to the National Office via an application form.  Nominations may be put forward by other members. Members may also self-nominate. 
The National Award Selection Committee will convene and review all applications and determine the winners within 30 days of the national Canadian membership conference.  All nominations received will remain confidential until the awards ceremony. 
All efforts will be made by the Committee to honour IWF Canada members from different backgrounds, professions and geographical regions. Terms of Reference for the Award Selection Committee will be included in the National Board Manual.

NOMINATION FORMS:      ENGLISH     FRENCH
Please send all nominations forms to Marie Bordeleau, Executive Director at executive_director@iwfcanada.com

The nominations deadline is April 3, 2023
---
2022 LUMINARY AWARD RECIPIENT

Françoise E. Lyon (Montreal Chapter) 
2021 LUMINARY AWARD RECIPIENTS

(Left to right) Deborah Trudeau (Montreal Chapter) and Kathleen Sendal (Calgary Chapter)

View recording of the 2021 Canada Cocktail Reception here: link to recording
2020 LUMINARY AWARD RECIPIENTS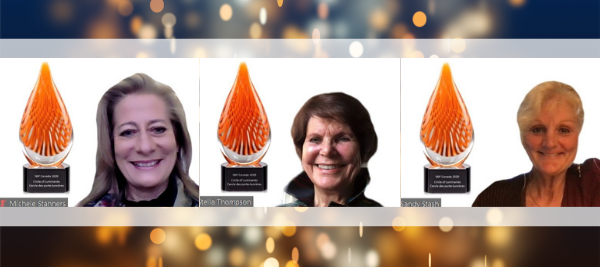 (Left to right) Michèle Stanners (Calgary Chapter), Stella Thompson (Calgary Chapter)
and Sandy Stash (Calgary Chapter)

View recording of the 2020 Canada Cocktail Reception here: link to recording

2019 LUMINARY AWARD RECIPIENT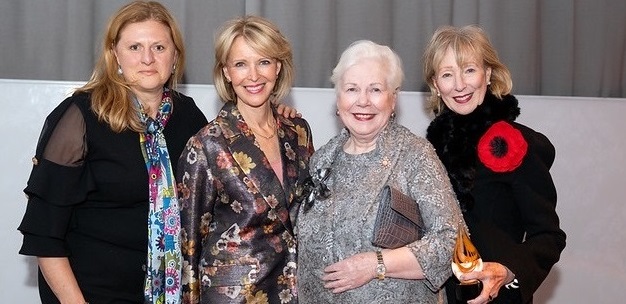 (Left to right) Françoise E. Lyon, IWFC President, Deborah Trudeau, IWF President (Montreal Chapter),  
Elizabeth Dowdeswell, Lieutenant Governor of Ontario (Toronto Chapter) and Shirley Dawe (Toronto Chapter)
 
2018 LUMINARY AWARD RECIPIENT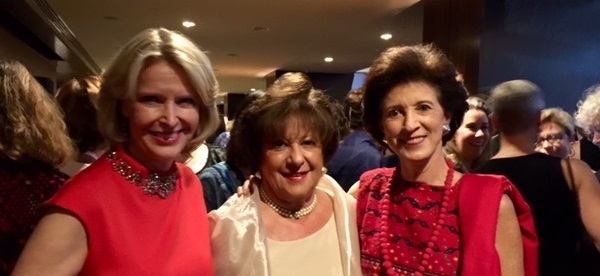 Monette Malewski (above middle) has been a part of IWF.  And IWF has been a part of her.  
At the Miami conference in October, she was IWFC's 2018 inductee in recognition of her tireless dedication and leadership.
To read Monette's speech CLICK HERE

2017 LUMINARY AWARD RECIPIENTS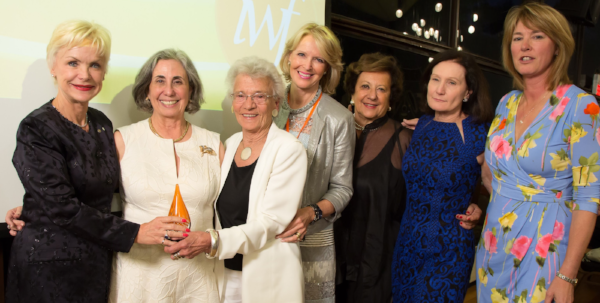 Circle of Luminaries Awards presented at WOMEN AS AGENTS OF CHANGE Gala, Montreal to
Micheline Bouchard, Ann Medina and Alison Youngman (posthumously). 
Left to right above, Micheline Bouchard, Theresa Weintraub, Ann Medina,  Deborah Trudeau, Monette Malewski, Ellen Moore and Karen Oldfield