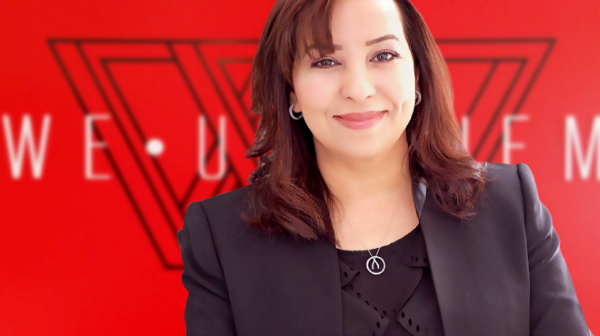 Faten Alshazly
Faten Alshazly is the Co-Founder/Principal and Chief Creative Officer of WeUsThem, an award-winning full-service ad agency with a client roster that includes the Government of Canada, the State of California, the Sinai Health System, Cambridge University, and Telus just to name a few. She's also the Principal of HealthEMe - a mental health solution deigned to revolutionize how care is delivered in our Canadian and international health systems. It was recently named a Top 10 innovative business across Canada by the Canadian Business Magazine.
Faten is also a Board Member of Efficiency One, and the first immigrant Chair of the Halifax Chamber of Commerce in its 250-year history!
When it comes to proud professional moments, Faten points to her dynamic, diverse, and vocal team. WeUsThem has been able to grow organically, during the pandemic with no layoffs or furloughs. Working with clients from six continents, Faten loves telling people about where she lives.
Faten says she believes in the power of IWF because leaders of all ranks need help and support as they continue their professional and personal journeys. She sees value in being able to network with, learn from, and work with women leaders from all sectors.
When not playing tennis or creating a new piece of art, Faten can be found spending quality time with her family. With successful siblings and a strong anchor of a mom, Faten says she couldn't ask for more support.
IWF Atlantic is very proud to have Faten joining as a new member!
---
Faten Alshazly
Faten Alshazly est la cofondatrice, administratrice principale et directrice de la création de WeUsThem, une agence de publicité primée offrant des services complets et dont la liste de clients comprend le gouvernement du Canada, l'État de Californie, le Sinai Health System, l'Université de Cambridge et Telus, pour ne nommer qu'eux. Elle est également directrice de HealthEMe, une solution de santé mentale conçue pour révolutionner la façon dont les soins sont dispensés dans nos systèmes de santé canadiens et internationaux qui a récemment été classée parmi les 10 entreprises les plus innovantes du Canada par le magazine Canadian Business.
Faten est également membre du conseil d'administration d'Efficiency One, et la première personne issue de l'immigration à occuper la présidence de la Chambre de commerce d'Halifax en 250 ans d'histoire!
Lorsqu'il est question de sa plus grande fierté professionnelle, Faten souligne le dynamisme, la diversité et la qualité de son équipe. De plus, WeUsThem a pu se développer de manière organique, sans licenciement ni mise à pied pendant la pandémie. Travaillant avec des clients des six continents, Faten aime parler aux gens d'où elle vit.
Faten dit qu'elle croit au pouvoir d'IWF parce que les femmes leaders de tous les rangs ont besoin d'appui dans leur parcours professionnel et personnel. Elle estime qu'il est utile de pouvoir créer des réseaux avec des dirigeantes de toutes les sphères, d'apprendre d'elles et de travailler en étroite collaboration.
Lorsqu'elle ne joue pas au tennis ou ne crée pas une nouvelle œuvre d'art, Faten passe du temps avec sa famille. Entourée de ses frères et sœurs, qui connaissent aussi du succès, et de sa mère, véritable pilier de la famille, elle dit qu'elle ne pourrait pas demander un meilleur soutien.
La section de l'Atlantique d'IWF est très fière de compter Faten parmi ses nouvelles membres!